Ella Hooper is an artist that has been working in the Australian music industry since the 90s, rising to the top as the front woman of Killing Heidi, a band that, for many, gave the soundtrack to our youth; an electrifying jab of rock sensibilities and the inspiration from seeing someone, just like us, kill it on the world stage, dominating the charts and, just generally, being an Aussie Legend. Her latest solo endeavor To The Bone is a certified banger, dance-floor filler and an instant pop anthem.
Plunging deep into disco, indie and multifaceted pop tropes, the single is Hooper's boldest and most bombastic yet, set to be a standout set-list highlight this September, when she takes on two massive Brisbane venues at the 2018 Bigsound Festival. The Melbourne Critique was lucky enough to sit down with Ella, and chat about her career, Australia now and in the contemporary what it means to be an independent artist.

Let's talk inspiration, what has lead you to live the life of a  musician?
It was definitely being lucky and having parents who are also musicians and were also active in encouraging us to do stage stuff and that would always be bringing other musicians over to our place to jam, as well as, growing up isolated, there were no people for miles so it was a 'perfect storm of everything' and I was really into it. Now, 35 years on I am still very much into it.
In those early days, what was it like, and how did Killing Heidi emerge?
We, myself and my brother Jesse, did it out of boredom and out of experimentation. We nearly killed each other in the process. It was basically like: "Oh, you're playing the guitar – I'm playing the guitar. You're playing the violin – I am playing the violin. You're forming a band in high school." And so  it went on.  When I got to high school, two years after him, his friends were forming a jam band and were saying: " Oh, maybe we should let your sister in," and he said "NO! It's a boy-band." Well, not for long. Eventually, they let me in. And stuff started to change at home and we started collaborating.
So you reached that point quite quickly? What was it like and what age were you then, when you sold, like, half a million records here and overseas, as well?
I think I was around fifteen when it all started peaking, it was around 2000 and 2001 and they were huge years for me. My birthday is in January so, it always comes after the turn of the year. I was pretty young, obviously, when I decided to leave school and do it full time, so that was a big step. I remember sort of feeling just so thrilled that it was happening, thrilled that it was working and people were really loving the music. But I was also a bit freaked out by how quickly it was happening. Yes, I have been working on it since when I was about 13, writing those songs and pushing myself while living in the country, but I was not expecting it all to happen so fast.
What's it like being a strong female figure in a male dominated industry?
That's a great question, because it is really important and such a hot topic right now. I don't think society was so aware of it back in the 90s, whereas now we go there – women can talk about how far we have come but we can also talk about where we have not come far enough at all, and what still needs our attention. So, back then, I did not think of myself as a 'woman' in the music industry, which is, kind of interesting, because I do now. I am not sure why, exactly. Lots of my heroes were men and I was just happy to step into the shoes of 'the front man' even though I am, obviously, a woman. I think it was, kind of, one of the secrets of our success.
Long story short, I wasn't so conscious then, but I do remember that I was pretty feisty; I would push back and I would bite back because I would only be given certain options because I was a female, while other were not made available.
I wish I was even stronger about it at the time, I wish I was more vocal about it. I wish I spent more time thinking about my role and the position that I was in. Unfortunately, some things just happened so quick and fast that a lot of it just wasn't very conscious for me back then.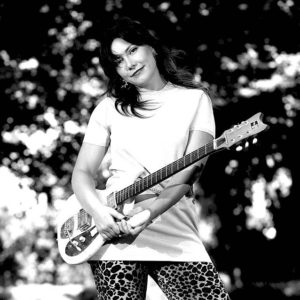 There is one issue that you have been very vocal about and that is: Indigenous rights and Land Rights – particularly as Australia is the only country that has not negotiated a treaty. What is your position on it now?
It's crazy! Even to the point that Jesse and I have held an awareness workshop on these issues on Australia Day. Although we had messages of support on our Instagram we also, unfortunately, had some 'old school fans'  that gave us shit about it, it was that classic Australian racist stuff. I just had to stop and think about this, and, I guess, ask "Have you people not picked up that we are passionately supportive of First Nations People and that we have absolutely been raised that way?"
Our mum is a social worker up in Shepparton, where she has worked quite closely with the Indigenous community. Wherever I can, I want to talk about these issues, but it's about finding the right times and opportunities to do so. I feel that I can do so much more than I already am and, am finding myself by being led by my friends who are First Nations. I hope that, collectively, we can reach some positive outcomes.
Do you feel that music is a vehicle for these kinds of discussions?
It definitely can be, even though I don't see myself as a political artist, I definitely feel that the misfits and artists are definitely who, I think, my people are so, I was really surprised by by the backlash we received when talking about First Nations; I really didn't see it coming, because that's not where I come from, or the people I hang out with.
So, let's talk, then, about the transition from being the front woman for Killing Heidi, to now, being an independent artist, what was this like; then and now?
It was scary and complicated, it nearly broke me, it has been a really long, hard, but valuable experience. I went from working with the band and Jesse, who is still my best mate, but, at the time, we just needed that break, and from there I went completely independent. Because, there were all these crazy big changes, all at once. It was a massive shift, but when I listen back, 7 years on, I am still really proud of that first album I released as an independent artist.
I think if you don't have ownership over the evolution of your sound, if you don't feel like you have a good relationship with music or your creativity, it can be really hard to keep on top of it. There have been some times where I have not had a great relationship with it, where it has become really toxic. But now I create the music that I love, and it doesn't matter if no one else does, because it feels healthy to me. Now as an independent artist it's like being back in a good relationship with music, you know? Me and music, all of a sudden, it's like we've spiced things up; we've  gotten back into each other, are getting it on every weekend.
But, if we look around us, these days, particularly in Melbourne, though there are still a lot of opportunities, it can be really difficult as an independent musician. Our live music venues are still under threat from over development as example. I just look around at the decadence of this city, and I personally feel, it is just like Rome before it was to fall.
Looking towards the future, where do you want to go next, where do you want to take music?
I really want to take my music overseas because I haven't toured outside of Australia, for a really long time, and it's a different vibe overseas, because people don't know me all that well, particularly as an independent artist. I want to keep creating new music which excites me.
In terms of the Australian music scene, I have a lot of hope for it, but I would love the industry to embrace more diversity, I want to see it continue to flourish which, I think it is, at the moment. Maybe I am to much of an optimist but, I feel we are continuing to push for this positive change, but sometimes it feels like there are too many 'yes men' in the industry, and the change, even though it needs to come from the top, it is more often that from independent artists and musicians; it is coming  up from a grass roots swell.