As we enter the days of Feast Your Ears Radio Festival 2018, The Melbourne Critique talks to Emma Peel, the presenter celebrating the first decade of her radio show  'Switched On.'  Emma can be described as 'The High Priestess of Vintage' and this trend is apparent in her love and aesthetic choices across both music and fashion. Straddling borders of broadcasting, DJing and 'every day art' Emma is and lives vintage on and off air, in actual and virtual space. Her choices speak of potential, memory and celebration of life, showing us the way forward by looking back and joyful re-imagining the bygone eras. In a time when we are advocated that being an A grade anything/anyone is the most important trait, she is keeping it passionately true to herself and, above all, RETROgrade.
For those who want to know the basics about your 'vintage beginnings' there is short documentary video available on VIMEO. However, let's zoom in on this a bit: were there any pivotal moments in your history that led to you, not only collecting, but also connecting all these disciplines so deftly. To go all Shakespearean on you; there are supreme methods to your madness, tell us a bit about the inner workings of Emma Peel the DJ, the presenter and the vintage style- icon? Where do you DJ these days, are you involved in other radio shows and are you involved in vintage or other fashion ventures outside of your own collections?
These are big questions, so I'm going to have to give you big answers. Here goes….
The seed for my obsession with vintage clothes, records etcetera was planted pretty early on. I spent every school holiday and most weekends at my grandparents farm that has been in the family since the 1830s. They lived in a big old house and everything smelt like mothballs. Most people hate that smell, but it reminds me of magical times. Nan would let us poke around and open up cupboards or climb into the attic to sift for treasure. There was so much stuff, but it wasn't junk. It was an antique dealer's dream.
I remember the day I found  mum's acceptance letter into the Elvis Presley fan club from 1959. I also found her 45s and portable record player, which I still have. The first thing I ever played on it was Ike and Tina Turner's River Deep, Mountain High and, to be honest, it sounded really crap, but the lo-fi-ness resonated with me, and I couldn't get enough of the tinny sound it produced. It took my mind off being an awkward teenage girl and transported me to another time. Essentially it led me down a 60s/70s rabbit hole, from which I am yet to emerge!
When you think about the 1960s, you think about the music and the fashion – the two are inextricably linked. So naturally I dug the music and I also fell in love with the fashion.  I remember watching the Beatles music video for I Am The Walrus when I was 16 and nearly having a conniption over what they were wearing. Jefferson Airplane's Somebody to Love had a similar effect. I idolised Grace Slick. The fashion was flamboyant and vibrant and I wanted in. I chucked all my Mambo t-shirts and Happy Pants in the bin and starting op-shopping for vintage clothes. Today, my clothes collection takes up the bottom floor of my house… but I still have nothing to wear.
Look, this is a very long-winded way of saying that, yes –  I suppose I have managed to connect the vintage disciplines deftly, but it's not like I planned it. I didn't wake up one morning and go: "Right! I need a hobby. How about…. Records!," you know?  It started with my curiosity in old treasures when I was little and it has been evolving ever since. I don't give it too much thought. It's just my natural state of being.
These days, curiosity is still my main driver. I'm always on the hunt for unique vintage dresses that stop me in my tracks. I'm always digging for records and waiting for the next: "whoahhh, what the hell is THIS?" moment. It happens more often than you may think. And the great thing is, I get to share these moments on PBS FM every week.
When you hear me on the radio you're hearing the real me. I don't take myself seriously –  I'm rather self depreciating. The fact that you refer to me as a vintage style-icon makes me want to hide under the table, actually!
You can find me DJing at PBS's Soul A-Go-Go most months and at other events occasionally like Slow Grind Fever. Other than that, I tend to pop up at festivals around Melbourne throughout the year and as a guest on RRR every now and then.
As far as my vintage clothing exploits go,  I've been involved in a few projects in the past. Some of my pieces appear in vintage fashion history books. My records and clothes have been on display at the NGV, I've given talks at art galleries and music festivals, and I've appeared on most of the Aussie television networks to talk about my collections, too.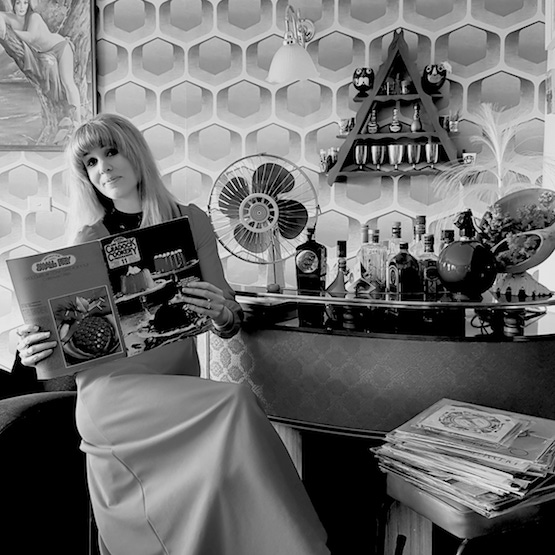 What have been some of the most memorable and meaningful experiences for you in each of these avenues: DJing, presenting, fashion and overall, vintage collecting and promoting?
OK, let's break this down:
DJing: The most memorable experience was when I supported Eddie Palmieri and his band back in 2012. It was at Max Watts and the crowd was at capacity. I was spinning all my beloved Latin salsa and guaguanco records to create a vibe before Eddie started. When I went back stage, I ran into the band – who were all Latinos –  just as they were about to go on, and they gathered around me and said "Girrrrrrrrl, how do you know our music like that?! What you are playing is incredible." There is no higher praise than this.
Presenting: Over the past decade on PBS FM I've had the privilege of interviewing and meeting a number of my heroes: Brian Auger, Lonnie Smith, Joe Bataan, Leny Andrade, Sergio Mendes, Marcos Valle and many more. I've made every one of them laugh and share stories with me that they've never shared before. When i'm in the midst of an interview like this, I have to pinch myself because it's hard to believe it's actually happening. When I was interviewing Sergio Mendes, I asked him about the time Frank Sinatra turned up and did the sound check for him at the White House. He paused and then he said to me: "How do you know this?! You know more about me than I do!"
Promoting: The most meaningful event I've ever promoted is the Reservoir Stomp. I am very passionate about the suburb in which I live and, as it turns out, so are most of the people who live here. The Stomp was born out of a little idea I had in 2015 after bumping into too many musos to mention in the local IGA. I thought it was ridiculous that there were so many creatives living out here yet there were no opportunities to play a gig, so I decided to put on a festival. Initially I thought it'd be a simple affair with a few bands and a couple of powered speakers in the corner of the local Bowlo, but it morphed into something truly spectacular, buoyed by local community love and support. 2018 marks the Reservoir Stomp's third year and I'm really looking forward to working with everyone to make it another corker.
Fashion: I have a moment every time I find a new garment for a bargain price! I recently bought a Youth Quake mini dress for a steal and I absolutely love it. Youth Quake was an American label that brought together the bright young talent in Europe such as Mary Quant and Emmanuelle Khan and teamed them up with Betsey Johnson and other young designers to create very chic and mod designs.
From the outside, you are a living, breathing, work of art – you live the aesthetics that you promote. As already stated you also straddle borders of different subcultures and even layers of the dominant culture. Over the years, how have you been accepted across these different demographic layers, being a daring, living vintagista ( my mash up of vintage fashionista)?
When you look different to everyone else and you're 6 ft 1 (as I am),  you're always going to generate a reaction – and it's not always good. I've had people say things to me like: "you just want attention," and: "you're a show-off." At school, people would scream "freaaaaaaaaak!" and throw stuff at me.  I remember one time when I was walking home from work in Carlton a man threatened to punch me because he was convinced that I was a bloke dressed up as a woman. That was particularly shocking.
Social settings where people don't know me such as work functions or wedding receptions can be a chore. I use up most of my energy trying to 'win' people over. There is an assumption, I think, that I'm either up myself or that I'm an absolute nutcase who is incapable of stringing a sentence together. I might look weird, but I'm not stupid.
I feel most at home when I'm mixing with artists and musicians or mingling within the PBS/RRR community. They understand the importance of self expression and creativity.
Let's focus on Switched On – how did you end up doing this particular radio show and what has its evolution been over the past decade? Furthermore, where would you like to take it in the future, perhaps over the next decade?
My first radio appearance was on RRR. I guested on New and Groovy a few times, and then I did some fill-ins when Johnny Topper was away. The program manager at PBS heard  me and urged me to put in a show submission. That show submission was Switched On. The great thing about the show is that my remit is broad, so I can freely go off on tangents as the mood hits me. One week I might play a bracket of Polish jazz, the next I'm playing European psych. Probably the biggest evolution has been the focus, in the first hour, on Brazilian and Latin music from the 1960s and 1970s. I'm really drawn to these sounds, and there's just so much of it I've only begun to scratch the surface, I think.
The PBS program manager dug out some early episodes of the show for me to listen to prior to my 10th anniversary show in May. I was prepared to be very embarrassed at my dorky announcing but, to be honest, I think I was better back then! I sounded super professional. I think I've slacked off in my old age…either that or I've just become more comfortable behind the mic!
As to what the next 10 years might bring. Wow – I hope PBS will have me for another decade, first of all. But if they do, I think I'll try to focus more on interviewing as many artists as I can that feature heavily in Switched On programming. 2017 sent me into a panic because two artists I'd been meaning to interview for years passed away – France Gall (a huge pop star in France in the 1960s) and Mose Allison (legendary jazz pianist and vocalist). Their passing was a wake-up call for me to get off my butt and start interviewing whoever I can before it's too late. It's important to document their story.
Nowadays records seem to be relics of the past, yet they also still have this universally coo-retro appeal. With the number of DJs that 'spin them,' do you feel the drive to keep the flame alive?
It's great that lots of other DJs are spinning records these days, but whether they do or don't has little bearing on my drive to play records. I love them and always will. I remember thinking it was so quaint when my pop got out his old gramophone and played me some of his shellac cylinders. One day I suppose I'll be the quaint one – I mean, I'll be even quainter than I am already.
What other retro-adventures do you dream to pursue?
Oh boy, where to start?! I do have a great idea that I've been mulling over for years that I think I'll be able to get off the ground soon.  I can't tell you the details because it's top secret, but it involves documenting time-capsule homes while also raising money for a charity that is dear to my heart.
Any words of wisdom for like-minded upcoming collectors, broadcasters, record and retro-fashion champions?
It's pretty simple, really. Be yourself and do something that is true to you. We're always influenced by others and shaped by our experiences, but it's the way you build on it and make it your own that counts. When collecting, broadcasting – or whatever it is you're doing – comes from the heart, people can tell. And for those people that don't get what you're about – stuff 'em and keep shining on.