Melbourne has never struggled to reveal immense musical treasures and uncover rare and hidden gems. Our city continues to stand up for the quirky, the unique, the unpronounceable and the newly arrived, as well as, for the commercially viable, the settled and the more familiar. We pack it out when it comes to the return seasons of the concert hall, stage or screen classics. We also dive deep and bravely bite off more than we can necessarily immediately chew, we trust our gut instincts and frequent the underground venues relishing in murky delights and making them a part of our future cookbook.
And there is another cookbook in making – a cookbook made by none other than some of the newer crew from the Boîte World Music Organisation. Eyal Chipkiewicz, one of Boîte's most recent imports is about to launch a new "world music" focused open mic night that will be held every second Wednesday of the month at Compass Pizza, 319 Lygon Street, Brunswick East starting at 7.30pm. This event continues to showcase Melbourne's rich musical diversity in a relaxed and social manner, focusing on world music. To launch the event, Gelareh Pour, an Irianian-Australian maverick musician, and a multidisciplinary artist will host the night sharing her musical work and welcoming several other artists to the stage.
In the lead up to the event The Melbourne Critique met up with Gelareh, a vocalist and kamancheh (a bowed string instrument akin to a lyra) player and listened to her story from Iran to Australia and across many artistic and musical worlds.
Let's create a background and acquaint people with you more broadly before we zoom in on some details: tell us about yourself, musically and personally? Where are you from? What brought you to Australia? Where and what style of music did you study and play before coming to Australia? What was your musical career prior to Australia?
I studied BA in Classical Persian Music at the University of Arts, Tehran. I trained as a children's music teacher, working across various music institutes, and was one of the first people to reintroduce music courses to the Institute for the Intellectual Development of Children and Young Adults, after a 30-year absence. I was also a member of the Tehran Vocal Ensemble – this group regularly won various competitions across Europe. I have also performed in classical Persian bands throughout Iran, Tajikistan and Europe.
Music has been my life since I was 7 years old, I've been on different stages since I was 8, and have never looked back. I studied both Graphic Design and music in Iran, but music was always my main career. After moving to Australia, visual arts have re-entered my life, but I've always kept my Kamancheh by my side, working hard to establish myself as an independent musician, willing to take on any challenge.
And then you find yourself in Australia? What next? What is life? Is music even on the agenda in this new place? How do you orient yourself in your new environment?
Originally, I was only intending to visit Australia. My sister lives here, and I was simply here to spend time with her. Roughly a month or so after arriving in Australia, I met a few artists through La Mama Theatre, and ended up working with them on few projects. After 2 months of being in Melbourne, I was being mentioned in local newspapers and was featured on ABC Radio.
I only had a 3-month visa, but decided to explore more of what this new exciting country had to offer, so I extended my visa for further 6 months.  Through this time, I traveled to different states for concerts, and met numerous other musicians that I was excited to perform with. I then received a scholarship from the University of Melbourne MCM, and started working on my Masters Thesis on Iranian women singers who live in diaspora. It was around this time that I also met my partner Brian O'Dwyer, as well as many new musicians, and so, I began making recordings for my debut album Tanin-e Melbourne.
I sang on my own, not something I was used to. I composed my own songs, and performed with no restrictions and, eventually, fell in love with Melbourne. This is why I'm here – because Australia let me be me.
I could sing, I could compose, I could be my own voice, and I could have my own band, and more importantly, I could be closer to my sister.
But, as many of us artist know, you only partially pick music – it tends to pick you? When you get the itch to do what you do, what do you do about it? Where do you find your first links into the world of the kinds of musical genres that interest you? And where do you find a place for yourself in the Australian music scene?
When I met Brian, my now fiancé, he opened a new window to the music world in Melbourne for me. I had no idea what experimental music was, but here it was thrust upon me. I'd been improvising in music my whole life, but I'd never really explored music in an experimental or avant-garde sense, and I'd certainly never done this live on the spot with musicians that I was meeting for the first time – I loved it!
Melbourne's experimental music scene has taught me so much. I don't love everything about it, but I learn from it constantly. I've learnt to be open to everything, and have tried to say yes to every opportunity that has come my way.
I've been in theatre productions, experimental bands, black metal bands, Classical Persian ensembles, Choirs, solo performances, duets with musicians from different backgrounds, improvised bands, Noise and electronic bands, Heavy Metal, Post-Rock, Doom, World, and Soft Rock bands. And, I'm still looking for more. This is Australia – you can always find more.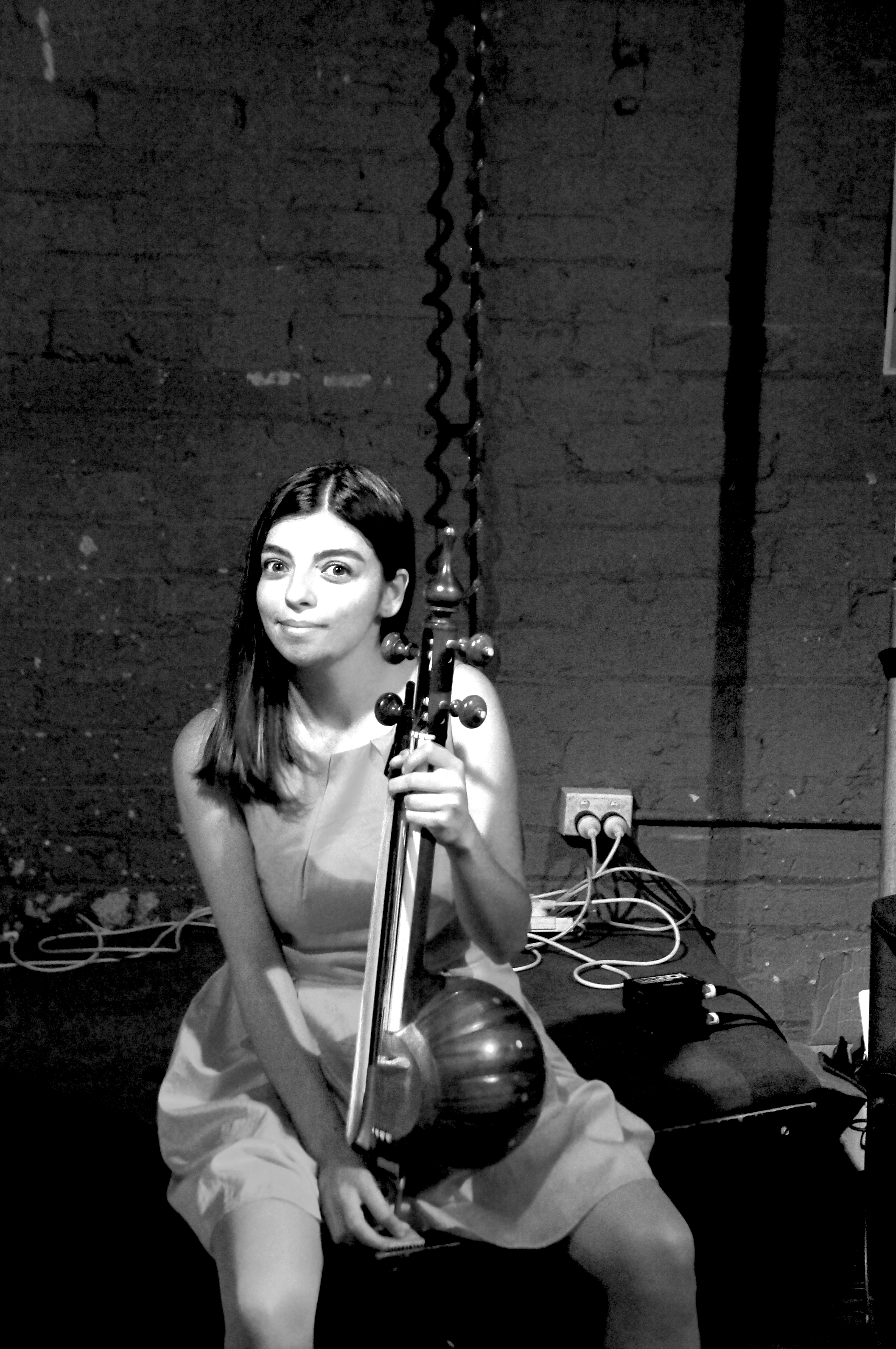 Many of us know that these stories are often full of sacrifices and unsung heroes. Who are some of the people, organisations, events – both likely and unlikely, or even what are some of the unexpected but auspicious circumstances that have led to significant turnarounds in your exposure on the Australian world music scene?
There are many people that have helped and guided me through-out my journey in Australia, but there are a few that I need to mention, as they've become a part of my musical family here.  My sister is the reason I'm here. I'll never forget how she took me under her wing and passed on everything she had learnt from her own migration to Australia.
Brian, my fiancé, has exposed me to the many unique and individual elements of the Melbourne music scene. He introduced me to Adam Simmons, who has become a great personal friend and regular collaborator, and he, in turn, introduced me to the Boîte, Therese and Roger.
Before that, through friends who are involved in dance, I was introduced to La Mama Theatre, Liz and Lloyd.  My supervisor Cathy Falk at Melbourne Uni encouraged my academic growth.
Michael Sherrif, ABC Radio, was another incredible link to more collaborations, and helped me develop my ongoing relationship with ABC radio. Radio stations such as PBS, 3CR, RRR have all been incredibly welcoming and kind to me. Perry Holt and Roger Holdsworth who work at those radio stations have always supported my music. Joe Malignaggi who I only met last year, but has been a staunch supporter of my music.
I know I've missed lots of names here, there are so many amazing people that have shown me love and support, and helped me to realise my musical potential in Australia.
Where are things at now: in your life, in your music composition, your outlook?
Melbourne is the most multicultural place I've ever been to, I feel so lucky to live amongst it all. Meeting new people is one of my favourite things, everyone is different and unique, and all are always full of stories, which I constantly use as inspiration in my music.
Migration isn't an easy thing. As much as you're embarking on a new journey, meeting new people, learning new things, you're also leaving things behind, people you love, places you grew up in, smells, sounds, tastes. Migration also means you miss out on a lot of things, birthdays, celebrations, births, marriages, or even, the chance to say goodbye to a childhood friend that passes away. I've created many pieces for these reasons.
My music is about communication and love between one another, but it's also a way to stay connected, a way to share my story, and to let those I love know that they've never left my heart.  Apart from one off collaborations with different musicians, I currently perform in three bands regularly. These are:
Garden (a quartet, blend of contemporary Persian and Western themes,) Zöj (a duet consisting of Kamancheh, Voice, and Drums, contemporary folk music) and Minimum (trio, with Voice, Kamancheh, Electric Guitar and Drums, improvised Post Rock). These bands and collaborations are all very different, and have allowed me to experience a broad range of venues and audiences.
What do you still aspire to achieve in the near and far future? What do you wish to change and what do you want to nurture and cultivate, both in your personal artistic practice and in your broader contribution to the world music scene in Australia?
My mission in music is simple. Learn every day, collaborate with musicians from different backgrounds, and create more music.  I also strive to create more opportunities for female performers, this was my mission in Iran, in my thesis, and now, in my musical career in Australia.  I love to challenge my audiences' listening experience, to open their ears to diasporic music, to not only be about where I've come from, but also, who I am after leaving my hometown and starting a new life in Australia.
What's your dearest musical memory since you've been in Australia and what is one from your home country? Do you have a message for the newly arrived musicians?  
My dearest musical experience in Australia was the moment Brian played me a mastered version of my debut album. It brought tears to my eyes – I was both sad and happy. I was sad because after years of playing music professionally I couldn't have my own album in my home country because of the politicised nature of music. Yet, I was so happy to hear my music, my voice, available to the world, and to be able to say – this is me! It was a proud moment.
My suggestion to new arrivals is not to judge Melbourne by it's cloudy skies, and windy lanes. Melbourne is a hidden city, full of culture. If you search well, you'll find an endless world of art, especially music. Be open to new experiences: if you are a Facebook friend with a Melbourne musician and see them in a venue, go and say hi, talk to them because that might be your next gig. Go to concerts you normally wouldn't go to. Most of all, know that there's room for all of us, so make sure to support and appreciate your fellow musicians.