In the 1970's a group of pioneering feminist entrepreneurs launched a movement that ultimately changed the way sex was talked about, had and enjoyed. In this time they boldly re-imagined who sex shops were for and the kinds of spaces they could be, opening stores like Eve's Garden, Good Vibrations and Babeland, not as commercial enterprises, but in order to provide community resources and opportunities for education.
The new work Vibrator Nation by Lynn Comella details the fascinating history of how these stores raised sexual consciousness and redefined the adult industry, ahead of the books Melbourne launch next month, she spoke with The Melbourne Critique
Lynn, Let's kick things off. What are some of the identifiable ways in which the society has changed or adapted its views on sexuality and gender? In extension, do you feel these changes are framed in positive or negative contexts?
If we look back 50 years ago, to the late 1960s, we can begin to see some pretty significant shifts in the larger sexual culture, at least in United States. These changes were the result of a number of intersecting currents: the women's movement, gay and lesbian liberation, and the sexual revolution, all of which challenged and upended gender and sexual norms. Women were writing about the politics of the female orgasm. Gay men and lesbians were demanding civil rights. Sexual mores were shifting and obscenity laws were loosening. Sex was not only becoming more culturally visible, but more commercialized, too. While many people celebrated these changes, and viewed them as positive, there was also mounting concern, including in some feminist circles, about an expanding sex industry and the supposed dangers of pornography. By the late 1970s, the first women-run sex-toy shops had opened their doors, and in doing so, they actively positioned vibrators as feminist tools of liberation. At the same time, other women argued that dildos and pornography were instruments of patriarchal oppression. The women's movement was beginning to fracture along some deeply divisive sexual fault lines, and by the early 1980s, these conflicts would become a full-fledged sex war, which pitted women's pursuit of sexual pleasure against the perceived dangers of male lust and violence—tensions that still exist today.
How would you describe the way feminist sex-toy stores have changed the business of pleasure?
It's easy to take for granted, or not even realize, really, all the ways that feminist entrepreneurs have changed the business of pleasure over the past four decades. Today, consumers are increasingly accustomed to the existence of well-lighted and friendly sex shops that are educationally oriented and welcoming to women. But in the 1970s, women-run sex-toy stores, such as the pioneering Eve's Garden in New York City and San Francisco's Good Vibrations, were few and far between. The commercial sex industry was overwhelmingly geared toward men and their wallets. It took a conscious effort on the part of early feminist entrepreneurs to imagine a different kind of sex shop, one that catered to women, offered quality products, and led with a mission of sex education and personal empowerment. What emerged was an alternative retail model that stood in contrast to the stereotype of the seamy and lurid adult store that so many women—and even some men—found so off-putting. Feminist retailers positioned their stores as sexuality resource centers, rather than crude money-making machines. They began returning defective products and pressuring manufacturers to make better and more functional sex toys that wouldn't break the first time they were used. Sex-toy packaging with sultry porn stars was replaced with softer and more sanitized images, and messages about sexual health and wellness became cornerstones of marketing campaigns. All of these things, combined with the popularity of television shows like Sex and the City and the runaway success of the Fifty Shades of Grey franchise, contributed to the growth of a global sex-toy industry that today reportedly grosses upward of $15 billion dollars annually. Sex toys are big business, and feminists have played a central part in making this market what it is today.
What drew you to this line of research and discovery?
When I began this research, almost two decades ago, there wasn't a lot of academic work being done on the adult industry. In that sense, my research was a bit of an outlier. I knew that women-run sex-toy shops had a lot to teach us about feminist entrepreneurship, sexual commerce and politics, and the growth of the women's market for sex toys and pornography. I was fascinated by these businesses and the women who pioneered them, and figured I wasn't the only one who wanted to know more about them. The more I research I did, the more I wanted to know. What did it mean to run a mission-driven sex-toy business? What version of feminism did these businesses advance and who was included? What was involved in teaching sex education in a retail setting? How did they balance profitability and social change? The topic grabbed my interest and held it for years.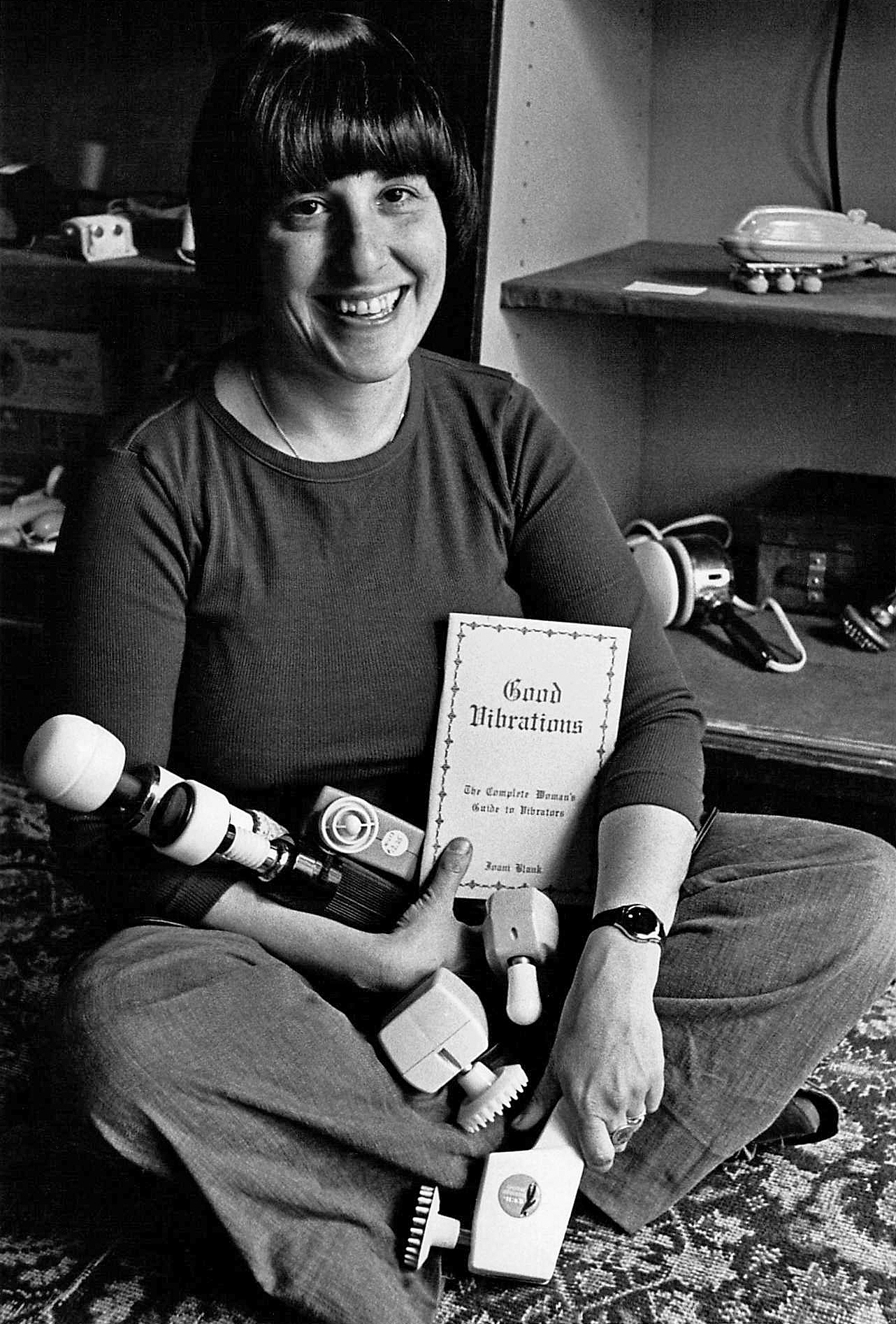 (Good Vibrations founder Joani Blank, 1977. Courtesy of Joani Blank.)
In your own words, what is sex positivity and, what is to be gained from a more liberal approach to pleasure? 
Sex positivity is cornerstone of the businesses that I write about in Vibrator Nation. Sex positivity is a philosophy, or a way of thinking about sex, that seeks to intervene in a culture that's overwhelmingly shaped by the belief that sex is a dangerous, destructive, and negative force. Think, for example, about abstinence-only sex education that promotes messages intended to scare teenagers into thinking that if they have sex outside of marriage they will inevitably get an STI and die. Sex positivity is a counterpoint to those kinds of messages and scare tactics. It includes the belief that the more support people have around their sexuality, the better; that people deserve access to accurate sexual information; and that no one should be made to feel ashamed for wanting more pleasure in their lives. There's a lot to be gained, I think, from this kind of approach, especially when it comes to sex education. If people feel more confident and empowered in their sexuality, and their ability to talk openly and frankly about sex, it stands to reason that they'll feel more confident and empowered in their relationships and their lives more generally. This is especially important right now as the #metoo movement gains steam and more people are talking about pleasure-based sex education that addresses the ethics of consent.
Talk to us about what is bringing you to Melbourne? What do you hope to offer to the locals in your time here? What will they acquire from the experience? 
Since September, when Vibrator Nation was released, I've been traveling to cities across the United States, from San Francisco to Washington, D.C., on a fairly ambitious book tour. I had the chance to bring the tour to Australia and I jumped at it. I'm excited to team up with Aussie sexpert Cyndi Darnell and retailer Nikki Darling in what promises to be a fun-filled evening of vibrators, vino, and sex positivity. We'll dish about the history of sex toys, the women's sex shop movement, the state of sex education, and more.