Steampunk is the new black: it is all around us. In the recent years it has swiftly moved from being an alternative genre towards becoming an aesthetic element that often punctuates many more 'mainstream' art ventures. And how could it not? As we move into the financial and ecological period of recession, as we witness the apocalypse driven by our own consumption, we are becoming living, vernacular versions of Tank Girl and Mad Max.
This once eccentric and unique style is becoming a powerful and humbling tool of social commentary. For almost a decade now, Melbourne has been a home of one of Australia's best loved alternative designers, Alexandra Chambers, the Queen-Larvae that gave birth to the label Clockwork Butterfly and who recently spoke to the Melbourne Critique.
Let's start with an introduction to you, Alexandra Chambers, the independent designer; how did it all start, what lead you to where you are today and what labels and ventures are you involved with?
I have had a passion for costume ever since I was a little girl. Growing up in England, my parents were both involved in the arts and I grew up immersed in theatre, opera and art. Through my interaction with a medieval reenactment group, as a teenager I learned sewing, pattern-making and hand techniques such as beading and embroidery, as well as, getting a good grounding in the history of costume. Whilst studying for a Diploma of Costume I worked first as a cutter for a plus size fashion label and then on theatre productions such as Dead Man Walking and Edward Scissorhands. I also worked on productions for Sydney Dance Company and Sydney Theatre Company.
I moved to Melbourne in 2010 and established my label Clockwork Butterfly, a neo-Victorian inspired label and launched it at Melbourne Fringe Festival. I have been involved in catwalks, exhibitions, artworks and productions in Melbourne, and am/was a co-organiser for The M.A.D. (Melbourne Alternative Designers) Fashion Showcase run in 2016, 2017 and 2018. I completed a Masters of Design Degree in 2017, featuring my major work 'Celestial Bodies'; this is a work of performance designs that utilises interactive LED lights which were inspired by the planets.
Victorian Gothic and Steampunk are certainly styles that have started as something niché, but are increasingly more popular and familiar in recent years; tell us about your work with Clockwork Butterfly?
Clockwork Butterfly was created from a love of the past. While I enjoy creating period pieces I love the freedom that you have with neo-Victorian and Steampunk styles. They emphasise  individuality and creativity; they are not limited by specific rules, drawing from an imaginary world. Mixing modern and historical elements enables you to take what you respond to from a time, but combine it with a modern attitude, comfort level and silhouette. My love of detail and texture lends itself to this style and I am able to explore characterisation and themes. I have designed garments and accessories from large scale productions through to individual pieces and feel that this timeless aesthetic appeals to a wide variety of people.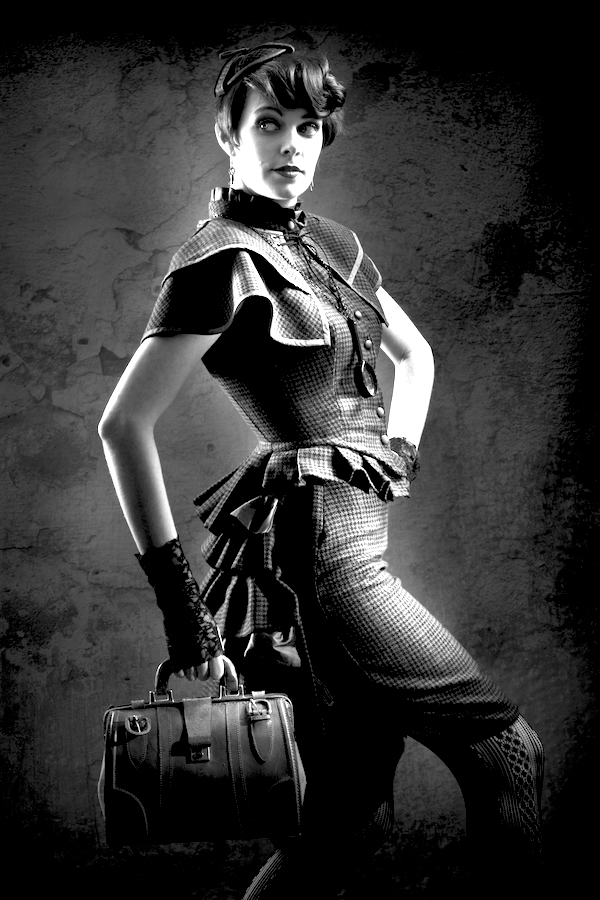 You have dressed some interesting independent artists and presented some memorable fashion shows; tell us about those?
I love working with performers from all different industries. Each specific area has its own challenges and rewards and offers some exciting opportunities. Dressing musicians such as the group Art Vs Science means you can play with enhancing their individual personalities. Dressing circus performers such as the crew from Circus Oz allows you to explore the movement and flexibility of the designed clothes. Magicians like Vegas, Madotti or Mr Marmalade are so much fun because of the theatrical aspects and the technical demands of their costumes. I work with each individual client to create their own story and tailor a design for their specific needs.
When designing a runway collection I often choose a theme like tea or old-fashioned sweets to allow myself to play and have fun with my creations. I have been a part of many alternative fashion catwalks and I love the diversity and unique vision of the designers involved. I aim to include performers in my pieces as not only do they add their showmanship to the runway but, I get to explore different facets of my designs when we collaborate. I  have also worked with artists and designers to create different looks. Sometimes mixing aesthetics can create something exciting and new. In 2017 I created a look based on the mythical figure of Circe with spectacular horns fashioned by Tentacle Spine.
What are your future dreams and plans for all your labels and, particularly,  Clockwork Butterfly? What is coming up for you this year?
In the future I would like to continue and expand the Melbourne Alternative Designers event, as well as, to explore my own label in new and different ways. I have a one-year-old daughter and she has inspired me to create some designs for kids that use some of the mix of the elements and details I love. I have also been doing one-on-one classes to help people gain the skills to create their own unique pieces and learn how to approach a design. In the future I would like to have the opportunity to run some larger classes and continue to teach techniques and construction of costume.
In conclusion, what is your message to the upcoming designers?
My message to young designers is: don't be afraid to experiment. Try different techniques, get inspired by the past and find your own way of combining elements. If you want to work in costume get ready to be challenged. Sometimes the best designs come from working within limitations and finding creative solutions. Listen to your client, make things well and make them to last. Love the process of creation and seeing your garments being worn. I feel that you never stop learning in this industry and every person has different things to offer.That's what makes it so exciting.
IMAGE CREDITS

Celestial Bodies

Photography- 3 Fates Media
Performers- Caitlin Dear and Ashlee Barton

Circe 1

Photography- Slippery Photography
Model/Mua/Wig Stylist- Eloquent Mx Loki
Horns- Tentacle Spine

Lady in red

Photography- Teardrop Studio
Model- Eloquent Mx Loki
Hair- Emma Johansson Taylor
Makeup- Becc Deagan

Femlock

Photography- Megagraphics
Model- Lauren Halstead
Hair- Emma Johansson-Taylor
Makeup- Dominique Weir