Basking in the light of the Leonard French ceiling in the great hall, Indigenous fashion designers will collaborate with artists and musicians to deliver a unique indigenous cultural spectacular, honouring the strengths and talents of our female creators. 'Our Women' is inspired by the tribal and cultural stories, featuring female Indigenous figures from around the world.
Designed for the 2018 Melbourne Fashion Week, The Indigenous Runway Project celebrates the creativity of our Indigenous women. The runway is the result of tireless work and the determination of Tina Waru, event founder and CEO of Global Indigenous Management, whom spoke with The Melbourne Critique, about visibility within the industry, engaging with the consumer and the empowerment of fashion.
The inception of Global Indigenous showcase; how did it come about, what does it stand to serve, and has this shifted, changed or solidified in the time since?
It had always been something I wanted to do and, even more so, when I made the decision to build a workshop focusing on career pathways in the fashion industry for young Indigenous people.
Through my research I found there were  only a small handful of Aboriginal designers  and Indigenous mentors, and that there was perhaps, no platform for Aboriginal people to showcase their work. It led me to create a runway platform for Indigenous young people so they could be exposed to and then, hopefully, inspired to consider a career in fashion, as a result of meeting Indigenous mentors working in fashion design, styling, photography and make-up artists.
It was my way of increasing the capacity of Aboriginal people in the fashion industry. Coming from New Zealand, I wanted to create a global initiative so that Indigenous peoples from around the world could empower themselves and their communities. Today, it has made a huge impact on the industry with now hundreds of emerging designers showcasing in the fashion industry and thousands of young people now interested in a career in the industry.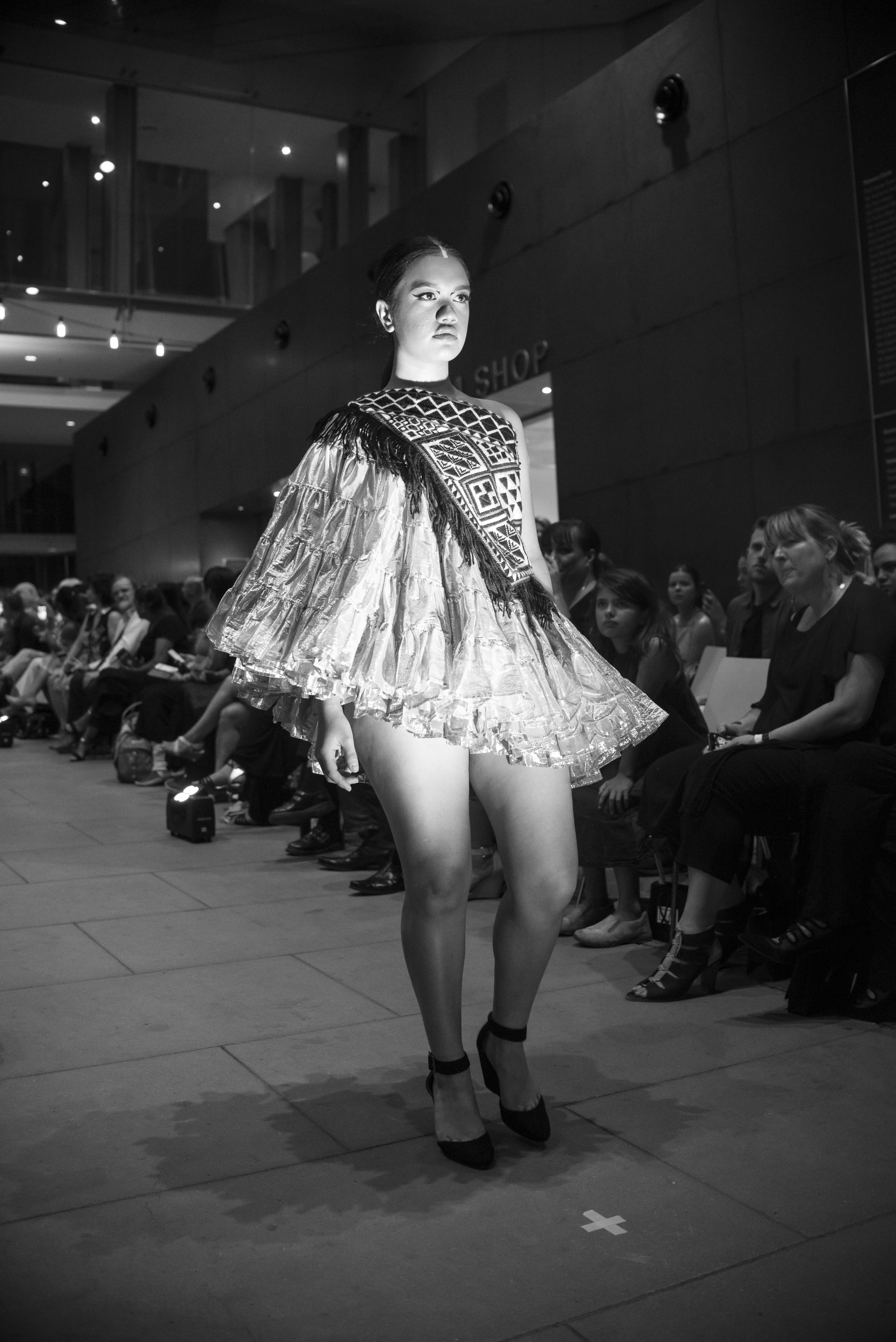 Global Indigenous Showcase VAMFF 2018
In this time, when the pendulum, once again, tries to swing right, how how do you use fashion as a tool of political commentary, as an agent provocateur?
I am a very persistent person and am not the one to give up; I always thrive when challenges are before me.
My mission is to build the capacity in an industry that has few Indigenous people, not by force but by pure determination to prove to the industry that we do belong there, right alongside them. Our communities have an abundance of creatives and we are focused on empowering ourselves in the industry; so that there is less likelihood of misappropriation and tokenism.
What are some of the major difficulties that you have faced along the way, and why do you think believe these have become, or are?
Gaining resources and funding or sponsorship support for the Indigenous Runway Project.
What could be done or changed, more broadly, by the fashion industry, public and consumers of fashion to better support Indigenous designers?
We see, year after year, a few consumers of fashion attending our runway events and would love to attract the thousands of fashionistas waiting for the next big show. They aren't all there, most likely because they don't yet know that we exist. To have them attend would be the best support they could provide Indigenous designers with. We need visibility and the presence of a fashion audience.
What does fashion give to the world, and more so, to the designers involved in this event?
Fashion gives us an opportunity to express ourselves and a voice to share our histories, stories and culture in the most beautiful way.