STILL WANNA BE A RABBIT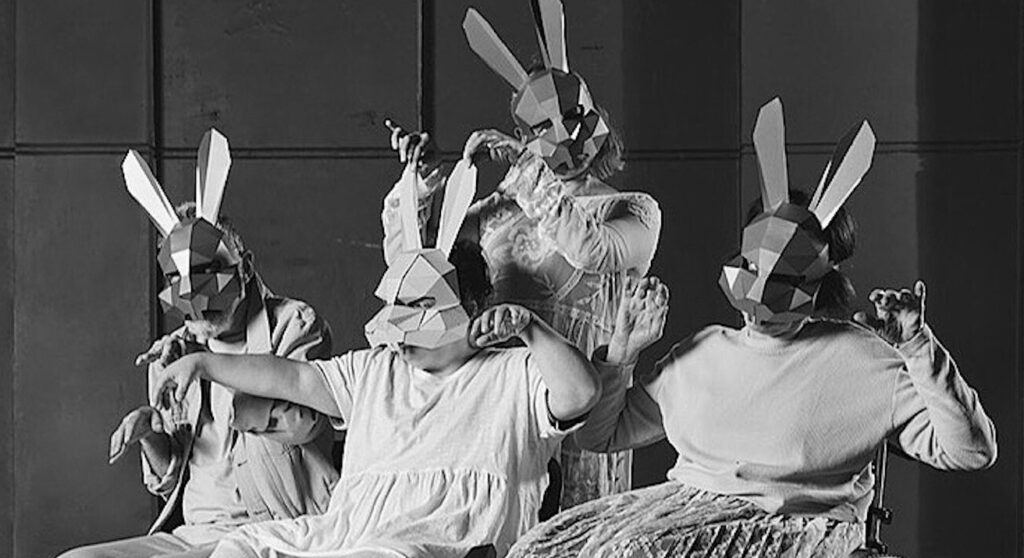 Presented at Quilt Room, Trades Hall as part of Melbourne Fringe 2022 from Thursday the 6th to Sunday the 9th of October.
Over the course of Yumi Umiumare career they have continued to define their performance sensibilities as both steeped in the ancientness of Butoh and Physical Theatre- as much as being obsessed with the absurd.
With a title like "Still Wanna Be A Rabbit" this show was never going to be any different. Its loose narrative- cartoonishly centred upon the mad plight of a scientist on the brink of a genetic breakthrough.
This breakthrough- to create half human, half rabbit creatures- all to reduce the need for humans in mass-producing industries. But the narrative goes much deeper- as it questions our individual identity and worth among modern, mass-produced society.
This show was originally slated for a season in May of 2021, it feels like the extra time in development has allowed these ideas and concepts to really solidify.
The use of footage from the ensembles 'zoom rehearsals' as part of the final performance, striking a chord with any artist who developed work across the last two years. It's detailing of COVID, and our collective experiences continued throughout the performance.
Emma Norton, David Baker, Janice Florence, Taka Takiguchi, Trevor Dunn as both performers and co-creators all gave exemplary performances- leaning into physical theatre's emphasis on the individual's physicality.
Working with Fringe Hub's limited tech -the show still achieves great effect with lighting and sound. There is also something 'so fringe' about throwing in a couple of torches for extra technical pizzaz. Similarly, the projections interspersed throughout the performance added further visual and narrative depth
With its tongue and cheek look at society and its piss take of politicians, and society at large- there is a strong comedic throughline. All in all, Still Wanna Be A Rabbit is an incredibly dense but light performance and one which marks a strong return to in person performances for Melbourne Fringe.