There is no other company in Melbourne that has stolen the hearts of both the young and the old, captivated and enchanted audiences through their high-wire antics, like Circus Oz have and continue to do. 40 years on and still going strong, they've recently tumbled back home and, are now gearing up to present their latest work Precarious within the lush grounds of Royal Botanic Gardens Victoria. Here, in this new work Circus Oz Artistic Director, Rob Tannion, joins forces with independent director Kate Fryer, to craft Precarious and create mayhem that is the ministry of nature – an absurd lo-fi bureaucracy filled with phenomenal acrobatics, spectacular aerials, live music and physical comedy. Intrigued, The Melbourne Critique headed down to the Royal Botanic Gardens, Victoria one morning to meet with Rob Tannion and discuss inspiration, history and the future of circus.
Rob, you've now been at the helm of this company for two years; with Circus Oz celebrating its 40th year what should we expect in way of new work and celebration of this milestone?
It feels like the equivalent of 'extreme sport'; we at Circus Oz, right now, are in the midst of 'extreme art', because, this year, we are creating four new works of varying different scales and styles. It is kind of obvious in a way that we went and looked at the four decades of the company, then creating four new shows and four different and unique ways of looking at Circus Oz. We start with Neon, which has been created as a kind of homage to a 1980s cabaret. Then we have Precarious, a that work marks a change of location; we are presenting this as our big top show in Royal Botanic Gardens Victoria. Then we have Tutti, which is made in collaboration with the Melbourne Symphony Orchestra and will be presented at Hammer Hall – this one really looks at circus as it stumbles into the rather eloquent world of Classical Music and explores how these two art forms mix, meet and bump teeth. Finally, at the end of the year, we have a collaboration with De Rotten Punkte called Rock Bang that will be presented at the Malthouse.
Stepping into the role of the Artistic Director of Circus Oz is no small undertaking, becoming integral to the history of this company as it moves forward into its next phase of being, how have you responded to this?
It is a huge responsibility, but not knowing the level of responsibility when you accept a job, I really think is a good thing. Probably the first year to year and half, I felt like there were so many moving parts, and, for me, it was hard to grasp it all. Now, in my second year, it really feels like the company has come together and have started to collectively drive towards a new artistic vision and that is really exciting!
You just touched upon "different art forms bumping teeth" which is something we have certainly begun to see in Model Citizens last year; with your background in dance and theatre, is this something we can expect to see in this new work and beyond?
I'm very much interested in pushing that a little bit more this year. I think the great thing with this co-direction with Kate Fryer is that we both have this common desire to tell stories and push acrobatics past the point of only being skill, seeing how acrobatics can be used in other ways to tell stories. We both desire to see the work we create as being much more choreographic and, throughout the process, we've been working on things like a whole new rhythm section – whether or not this or other kinds of things we've come up with, actually end up in the show is another story.  There is a definite drive for it to be quite highly choreographed but, I think that is more of an artistic underlining for the work as a whole.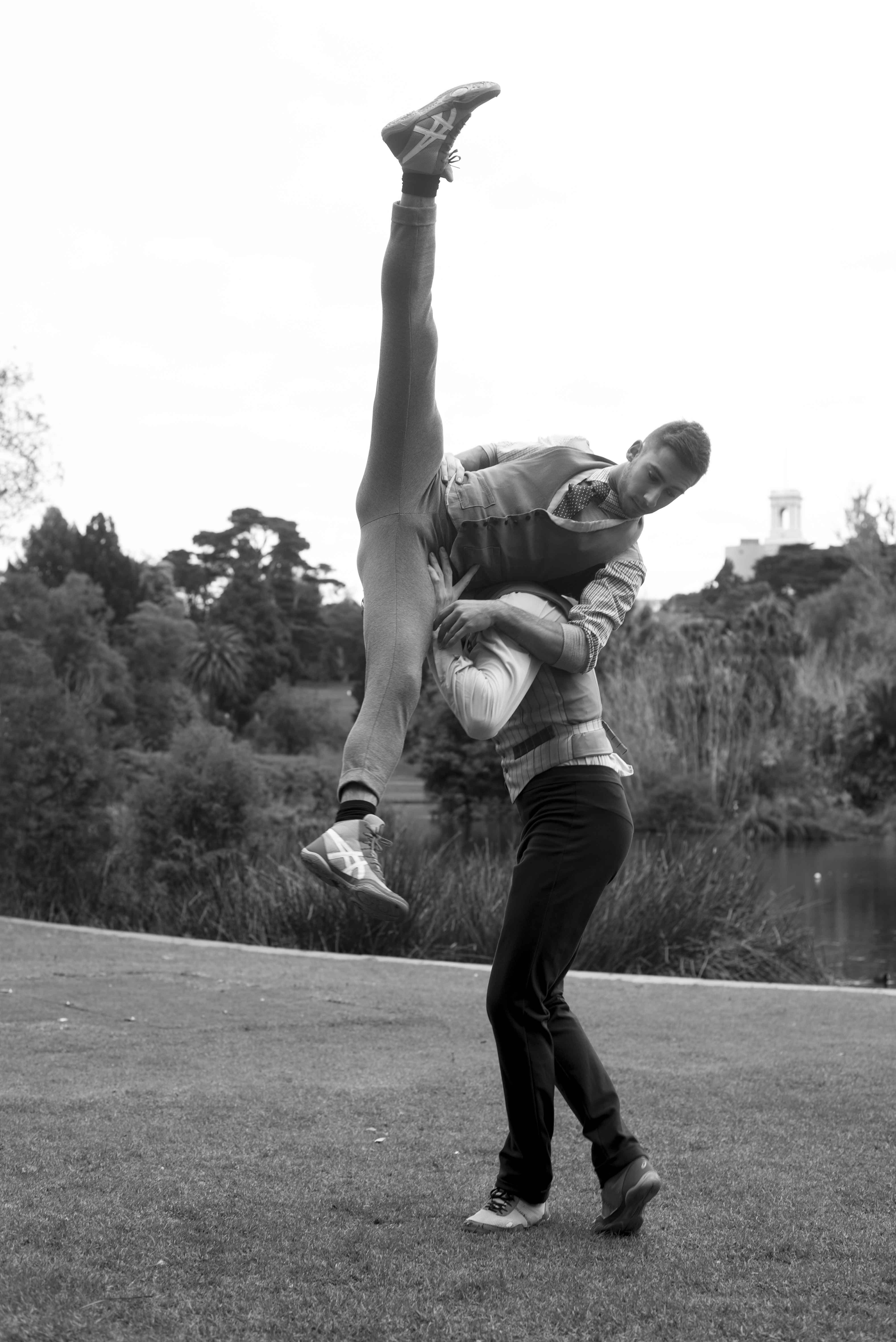 And this new work, Precarious, what is in a name and what are you exploring within; how much of the work has been informed by presenting the work in this new location within Royal Botanic Gardens Victoria?
In a nutshell, we have a very nice, very neat little story that asks what would happen if bureaucracy ran nature. It is not a show about global warming, or an artistic abstraction of an idea, but it does address the fact that we are living in precarious times, and the fact that people are much more aware of what their footprint and what their impact on the environment is. It explores the tipping point here. There are non-conventional uses of classic circus devices as we are, also, looking at how we can re imagine these in a new way. We have been looking at this being a little more lo-fi and a lot more natural show; a lot of wood tones are featured in this new work. I think that the biggest difference between this work and Model Citizens is Kate's voice and what she brings in terms of absurdity, as well as, how we play with this in a contemporary way.
In terms of now presenting work at Royal Botanic Gardens Victoria, I think it was, kind of, two fold; if we change the location people may see us in a different light. I didn't want to just do what we have always done; this show is going to be presented in a much more intimate setting. I wanted to present a new change for the company and a new set of challenges. Here, we are embedded in this incredible scenography and setting, so, to a degree, we did create a show which responds to this setting here at Royal Botanic Gardens, Victoria.
Looking forward, what do you envisage as the future for Circus Oz, and for the art form more generally, will it continue to hold relevance for future generations?
I think there is a really exciting future for Circus Oz, and feel like I will be one of those stepping-stones for the company into their future. Obviously we want to leave a small, but very positive impact on the company. It feels like we are in the midst of a real dynamic shift ; we are now much more embracing of  new opportunities and the possibilities of where  we could go. In the wake of Netflix and Uber Eats, the world has become more sedentary so, we have a role to become more challenging of such things. Do I think circus will have a role to play in forty years? Absolutely, for what has made Circus survive for so long, already, is its sense of community, its heritage and that it is a popular art form. Audiences can see some of themselves when they see performers on stage, and that is what makes Circus so deeply easy to relate to.